CASKOD CO., LTD. (Korea)
"By installing the new line, we were able to win a new contract."
A quality system that meet the needs and expectations of their customers.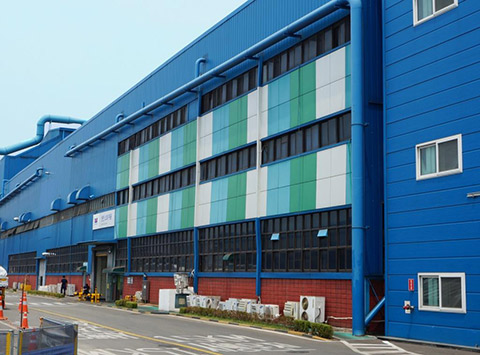 Located in Incheon, South Korea, CASKOD CO., LTD. produces cylinder blocks/heads and hydraulic parts, helping customers manufacture the best engine and hydraulic products. They are constantly investing in the optimal materials and technical development to support their customers in making the best products. To develop and supply the products that customers want on time, they make customer satisfaction their top priority in terms of performance, safety, usability, reliability, and service.
To achieve this goal, they have established a quality system for all activities for production, sales, and service, to meet customer needs and expectations.
Thanks to the efficient installation of the new line, they were able to minimize an interruption in operations.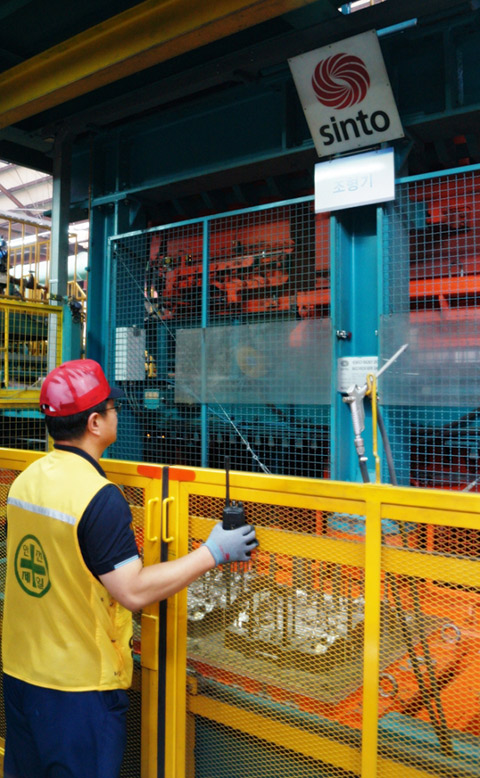 Their existing equipment was purchased over 30 years ago, and the fundamental operating principle and system had been subject to frequent vibrations and shocks. This led to frequent facility troubles and leakage problems, which made maintenance more difficult and decreased their production utilization rate. Mismatching and mold cracking occurred due to the poor condition of the equipment, so it was difficult to maintain product quality. Once when cracking occurred in the main frame of the molding machine, they had to perform repairs for two hours each time just to operate for only one hour, over a period of 10 days. So in hopes of increased production stability and improved product quality, they decided to purchase a new line.
As the new equipment would be the main production line, they examined adoption of new equipment from various aspects, considering everything carefully. The cost of equipment is very high, but once adopted, it should be used for more than 20 years. Accordingly, they focused on choosing a manufacturer who would listen to the opinions of the workers on the ground and implement them into the machine planning. Maintenance after adoption was also considered. Sintokogio satisfied all of these conditions. They entrusted Sintokogio headquarters in Japan with the overall planning and engineering, and Korea Sinto helped them make the plant exactly what they wanted through frequent consultation. "In particular, Korea Sinto's construction ability was very impressive, making it possible to install new facilities while operating the existing equipment on the second floor to minimize an interruption in operations," says Mr. Jung Sun Shin, Team Manager.
By installing the new line, they were able to win a new contract.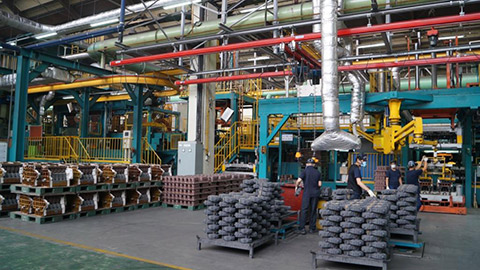 As a result of adopting the new line, productivity increased by 20%, and both the defect rate and equipment failure rate decreased. Recently, they used the new line for a new project by an automobile company, and the prototypes produced for it were highly evaluated. This helped them win the contract to supply high-quality material products. Mr. Shin expresses his gratitude. "I sincerely thank the engineers of Sintokogio and Korea Sinto in charge of the installation for their perfect planning and good quality equipment line." With the confidence gained from the new equipment line, CASKOD CO., LTD plans to expand their supply chain to leading companies overseas.
Company Profile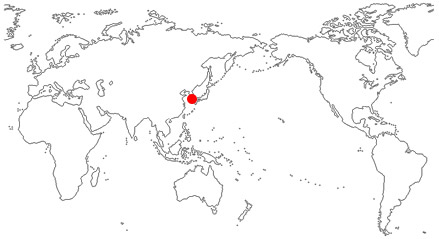 Name:

CASKOD CO., LTD
Location:

Korea
Products:

Cylinder blocks / heads, Hydraulic valve
Number of employees:

280
Sinto machine:

EFA-6 Molding line